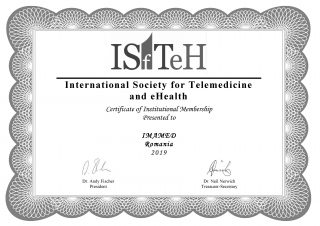 Centrul Medical IMAMED anuleaza distantele si asigura servicii medicale specializate prin intermediul retelei de Telemedicina si e-Sanatate incepand cu luna IANUARIE a anului 2019.
Colaborarea cu alte entitati medicale din peste 100 de tari respectand exigentele centrelor medicale implicate devine posibila dupa obtinerea statutului de membru al Societatii Internationale pentru Telemedicina si e- Sanatate – ISfTeH ( International Society for Telemedicine and e-Health ).
Istoric, telemedicina ( sau medicina la distanta ) a fost gandita pentru a ajuta pacientii aflati in zone defavorizate, care nu aveau acces la unitati medicale specializate in timp util. In practica actuala, sistemul inter-clinic de telemedicina permite realizarea anamnezei, a investigatiilor paraclinice necesare, emiterea diagnosticului si a planului terapeutic necesar – indiferent de distanta, prin intermediul tehnologiei! Atunci cand este cazul, o asistenta poate utiliza chiar si instrumente de e-Health pentru solutionarea problemelor medicale.
In prezent, telemedicina foloseste trei modele operationale: store-and-forward, monitorizare la distanta si servicii interactive in timp real. Modelul de store-and-forward permite accesarea datelor medicale obtinute la un moment dat, fiind accesibile medicului pentru o analiza ulterioara ( nu presupune si o vizita medicala concomitenta ). Monitorizarea la distanta este folosita in special pentru controlul diferitelor afectiuni cronice ( precum diabetul, bolile inimii sau astmul) fiind foarte avantajoasa pentru pacientul care va economisi mai mult timp ( nu trebuie sa mai ajunga la medic pentru controale de rutina). De asemenea, poate fi facuta prin intermediul diverselor dispozitive purtabile, oferind un esantion de date mult mai mare decat o simpla vizita la medic. Serviciile interactive ( in timp real ) construiesc o noua punte intre pacient si medic. La momentul actual, mai multe investigatii precum examinarile fizice, imagistice sau chiar oftalmologice au potentialul de a fi la fel de precise precum cele efectuate fata in fata.
In cadrul acestei organizatii, Centrul Medical IMAMED faciliteaza comunicarea intre medicii din diferite tari, dar si intre acestia si pacienti prin tehnologie audio si video. Principalele grupuri de lucru recunoscute de ISfTeH pentru dezvoltarea si implementarea tehnicilor de telemedicina si e-Health sunt: Tele-Cardiology ( Tele- cardiologia ), Tele-Dermatology ( Tele-dermatologia ), Tele-Urology ( Tele-urologia ), Tele-Nursing ( Tele- asistenta medicala ), Chronic Diseases Management ( Managementul Bolilor Cronice ), Education, e-Health Economics, Medical and Bio-Informatics, Students.
Recunoasterea statutului de membru institutional al Societatii Internationale pentru Telemedicina si e- Sanatate – permite Centrului Medical IMAMED relatii oficiale de colaborare cu Organizatia Mondiala a Sanatatii (O.M.S.)  si cu alte entitati institutionale din peste 100 de tari, pentru a ajuta pacientii sa se bucure de sanatate!